Advertisement
Shea Butter for Hair
Dry skin and hair can feel like an impossible thing to remedy. When it comes to natural hair, dryness is a battle that can seem never-ending. While there are various hair types when it comes to natural hair, there is one thing that is consistent and that is the struggle with dryness. The reason that natural hair is so dry can be due to various reasons. From the shampoo you're using to the kind moisturizing products you're applying, your natural hair can be suffering from dryness for many reasons. One of the tried and true cures to dryness for natural hair has been shea butter. For years, especially since the restart of the natural hair movement in the last decade, shea butter has been the number 1 choice of moisturizers for the hair.
Shea butter is the fat that is extracted for an African shea tree nut. The color of the product can vary depending on the actual nut itself and the level of refinement the product has gone through. Shea butter is made through a long and exhaustive process. Shea butter is a thick product that can be purchased from most beauty locations. When it is refined, it may take on a white color while the less refined shea butter products will appear to be yellow. As with many beauty products on the market, some shea butter products can be pure and raw containing only shea butter and nothing else. There are other products on the market that are cut with other oils which makes the product less effective. Shea butter, in it's raw form, is totally natural and even edible. It is rich in vitamins A, D, E, and F.
Best Shea Butter For Hair
2
Shea Moisture Coconut and Hibiscus Curl Enhancing Smoothie
Natural hair needs consistent nutrients and high quality moisturizing hair products that style and nourish the hair. The texture of natural hair can make it difficult for natural oils to reach the ends of the hair strands. It is essential to choose products that have ingredients like shea butter. While pure, raw shea butter can be great for natural hair, products that have shea butter along with other ingredients mixed in is great for natural hair. Shea Moisture Coconut and Hibiscus Curl Enhancing Smoothie  is a product that is as great for styling as it is for replenishing and conditioning natural hair. The fatty acid rich organic shea butter is the foundation of this product which makes it incredibly moisturizing. Natural hair can appear dull even if it is healthy and moisturized. This product is blended with coconut oil as well which adds a boost of shine which is perfect for natural coils. The Shea Moisture Coconut and Hibiscus Curl Enhancing Smoothie will reduce frizz that can be caused by dry and brittle hair. The shea butter moisturizes the strands so that the hair is touchably soft and smooth all day long. This product can be used for natural hair wash and go styles or on dry hair to do twists and braids.
The scalp is the foundation for beautiful hair. If your scalp is inflamed, dry, and flaky, it is likely that it needs some extra attention and care. Shea butter is not only wonderful on the hair and the ends of the hair for moisturizing, it is exceptional for the scalp. Shea butter can lessen scalp inflammation, cure dryness, and stop flakes from forming. This will allow the hair follicles to emerge through the scalp and stay healthy. PURE Shea Butter is an 100% organic, virgin ivory shea butter that is imported from Ghana. Since it is not a refined product or blended with other oils and butters, the PURE Shea Butter is highly effective. The fatty acids and vitamins that are naturally found in shea butter are retained through the extraction process. The butter is extracted from the shea nut using a cold press method which means that there are no harmful chemicals or toxins used to extract the product. The product is packaged and a travel friendly jar with a twist top to ensure that the product stays safe against bits of debris and hair. The shea butter product is creamy and smooth which makes for easy application to both the hair and scalp as well as the body.
4
Molivera Organics Raw African Organic Grade A Ivory Shea Butter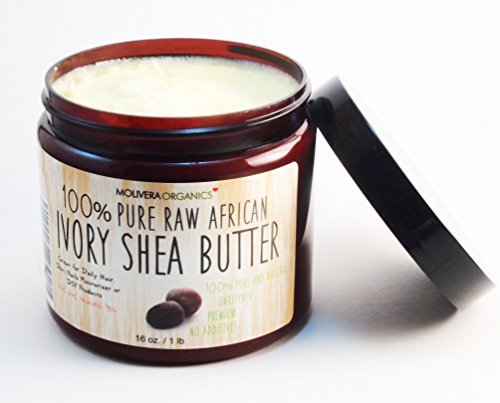 Of all the hair products on the market that are for natural hair, shea butter is one of the ones that can be imitated the most. Many companies will say that their shea butter is pure but it's actually not. It can be difficult to tell the difference but some of the signs of shea butter that is not pure is an intense yellow color, fragrance smell, and gritty texture. Molivera Organics shea butter is a 100 percent raw, organic, chemical free shea butter. The butter is extracted from the African shea nut through a cold press process. This means that the shea butter is free from toxins associated with the more commonly used expeller press method. The shea butter is 100 percent pure ivory without any dyes or any other product that will dilute its natural healing properties. Since the shea butter is not diluted or overly processed, it is naturally creamy, smooth, light, and easy to work with. The Molivera Organics shea butter can be applied directly to the scalp as a nourishment treatment or it can be used as a sealant for natural hairstyles and maintenance. Since the Molivera Organics is completely pure and organic, your hair is receiving everything that the natural fatty acids and vitamins have to offer.
5
Rise and Shine Whipped African Shea Butter Cream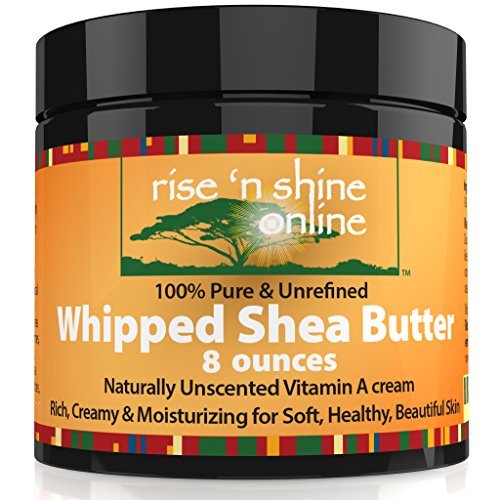 While shea butter is an excellent hair product for natural hair, it can be a bit difficult to work with in its purest forms. It can be found in huge clumps that have to be broken apart and manipulated for easier application to the hair, skin, and scalp. For many people, they want a hair product that is as easy to use as it is effective. The Rise and Shine Whipped African Shea Butter Cream is an all natural product that is pure and free from any added chemicals. It is imported from Ghana and is completely organic. It is unscented but there are scented options available. The wonderful thing about this shea butter product is that it is whipped which means that it glides on to the hair and scalp quite easily. It is ready to use, straight out of the jar, and doesn't require too much extra manipulation. Since the product is pure and without any extra oils or chemicals, the vitamins A and E are rich and effective. The fatty acids that make this product incredibly moisturizing are intact. Rise and Shine Whipped African Shea Butter Cream is a shea butter that offers all of the wonderful benefits of the pure shea butter while also being easy to use.
6
Cantu Shea Butter for Natural Hair Coconut Curling Cream
The Cantu Shea Butter brand has been a trusted hair care product in the natural hair community for years. They consistently make products that are designed to serve the natural coils, kinks, and curls that make up the community as well as serving the issues that come along with natural hair. The Cantu Shea Butter for Natural Hair Coconut Curling Cream is no exception. The curling cream is a sulfate free, shea butter based product that nourishes and helps tame natural hair coils. Since the cream is free of toxins like sulfate, parabens, and mineral oils, it is safe to use on a daily basis. While the base of this product is 100 percent natural shea butter, there are other nutrient rich ingredients including coconut oil. The smooth and silky consistency of the product makes the product easy to apply to wet or dry natural hair. The Cantu Shea Butter for Natural Hair Coconut Curling Cream helps to replenish the natural touchable softness and shine back to natural coils. The ingredients work together to cut down frizz, dryness, and the brittle feeling that can ruin your desired style. Cantu Shea Butter for Natural Hair Coconut Curling Cream can be used daily to moisturize curls or specifically for styling only. Either way, it will create the moisturized natural hair of your dreams.
7
Unrefined Shea Butter by Better Shea Butter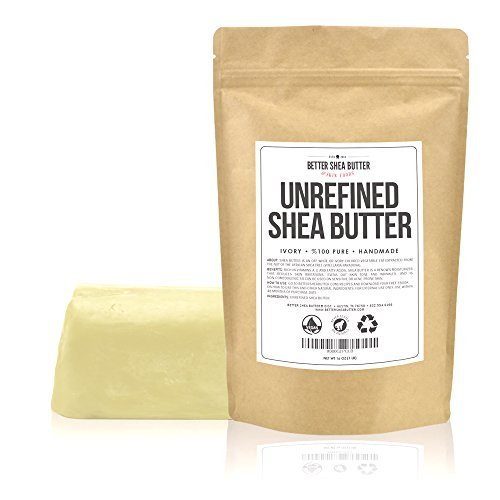 One of the most trusted brands for 100 percent pure and unrefined shea butter, this product is unmatched to many others on the market. For starters, this product is completely free of any additives or chemicals which means you receive all of the wonderful benefits packed into shea butter. The fatty acids and vitamins are rich and able to penetrate into the hair shaft to work their magic. Even though the product is completely natural and pure, it is still easy to work with as the purity ensures that it is soft and malleable. For many women with natural hair, creating simple natural hair products at home is a part of the process of going natural. To make quality, do it yourself products at home, you have to start with quality ingredients. Better Shea Butter pure, unrefined shea butter is an ideal choice to use as a base. It's purity ensures that the shea butter works well with other natural ingredients like coconut oil, olive oil, and coco butter. While it can be combined well with other ingredients, this very pure shea butter can also be used on it's own to nourish the scalp, moisturize the hair, and protect the strands.
8
Taha African Shea Butter Cream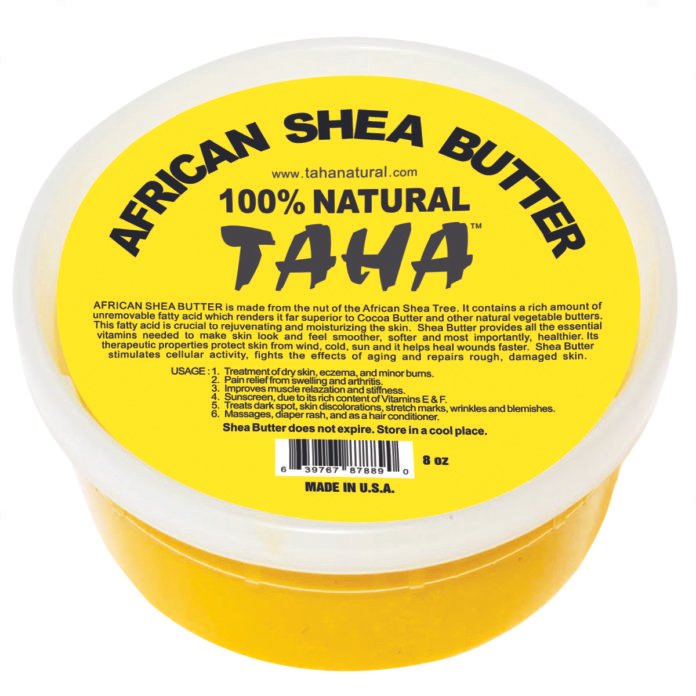 Natural hair needs a solid moisturizer that is going to nourish the strands as they are prone to dryness and breakage. Shea butter, in its pure form, is the perfect product for the job. It penetrates into the hair shaft and seals in moisture so that natural kinks and curls stay touchably soft all day long. However, shea butter is prone to being mixed and blended with other oils and fillers but passed off as natural. However, Taha African Shea Butter Cream is an all natural shea butter that is packed full of the vitamins and nutrients that make shea butter excellent for natural hair. Since the product is pure, the shea butter is smooth and easy to apply to the hair or scalp. It melts quickly between the palms and can be slathered over curls or rubbed on the scalp. While it is excellent for natural hair, the Taha African Shea Butter Cream is also wonderful for the skin. Many people fail to understand that the scalp, just like the rest of our skin, needs to be cleansed and moisturized regularly. Since Taha African Shea Butter Cream is suitable for skin and hair, it makes it absolutely wonderful for moisturizing the scalp without clogging the pores of the scalp.
9
African Pride Shea Butter Miracle Buttery Creme
The brand, African Pride, has been a trusted well known brand in the natural hair community. From oils to edge controls, African Pride has created endless products to enhance and strengthen natural hair. The African Pride Shea Butter Miracle Buttery Creme is no exception. The foundation of this product is the vitamin rich shea butter. The shea butter is what makes this product highly effective in moisturizing curls and making natural hair manageable and soft. The shea butter is blended with other highly nourishing oils like coconut oil, rosemary oil, and aloe. In combination, these products work well together to make natural hair bouncy, soft, and shiny. Since the product is a creamy consistency, it can be used successfully on wet hair as well as dry hair. This is important as, for many women transitioning into natural hair, styling their natural hair can alternate between wet styling and dry styling. Being able to use one product for both options is essential .
The NOW brand is a well known and highly trusted brand within the organic and natural food and body care industry. They have made their name on creating products for the body that are crafted from high quality ingredients. Since 1968, NOW has lead the way in natural food and body products. Their shea butter product is no different. The NOW Shea Butter is derived from tree nuts of the karite trees that grow in Western and Central Africa. It is an authentic product which means the benefits and nutrients found in shea butter naturally are maximized. This shea butter is completely natural and non GMO. The emollient properties of the shea butter make it great for sealing in moisture for natural hair styles. Natural hair has a difficult time holding on to moisture so high quality products like this shea butter that are emollient are essential to lock in the moisture while styling for coils that are soft and manageable all day long. Since this product is a bit more firm, it is suggested that a small amount be scooped out of the jar and either microwaved or warmed in the hands for an easy application to the skin, scalp, or hair.
11
What are the benefits of shea butter?
Shea butter is wonderful for many reasons and can benefit your body as a whole. Shea butter is highly moisturizing and has the power to heal and restore dry, damaged, and brittle hair or skin. It can be used on it's own or blended with other oils for maximum benefit. Here are a few benefits of shea butter:
Moisturizing
One of the number one benefits of shea butter is it's amazing moisturizing properties. Shea butter is packed full of natural vitamins and wonderful fatty acids that are nourishing to the skin as well as the hair. It can be used to protect the natural oils that your hair and skin produce. When your hair is feeling dry and depleted, shea butter can moisturize your strands and bring the back to life. As far as skin, shea butter is highly effective for dry, cracked skin.
Hair Loss
Plenty of men and women deal with hair loss and it can be a devastating. Shea butter has been used for centuries, dating back to ancient times, to help with hair loss prevention and to keep the hair strong and healthy. The way that it works is by keeping the hair strong so that it is not prone to break. For natural hair, hair growth retention can be more difficult because of dry and brittle ends. As the hair grows in, it can appear that the length is not being retained because your strands are breaking off at the ends. Shea butter, when applied to the ends and along the hairline can keep the strand strong and healthy to prevent breakage and hair loss.
Repairs Damaged Hair Strands
When it comes to natural hair, sometimes the dryness can be due to long term damage. Terribly rough ends and uncontrollable frizz are just a few signs that your hair may be quite damaged and in need of some serious attention and care. Shea butter can actually repair the damage to the hair shaft instead of just masking it. The fatty acids have the power to replenish and nourish damaged strands, no matter the cause. Whether the damage is because of hair color treatments or over processing, shea butter can heal your hair strands.
Scalp Repair
Often times, when we think about dry and damaged hair, we totally take the scalp out of the equation. However, healthy hair starts with a healthy scalp. This means that the scalp needs to be well moisturized and flourishing in order for the hair to do the same. Shea butter, when applied to the scalp, can repair it. The vitamins naturally found in shea butter help to moisturize the scalp and help with inflammation. This, in turn, helps your to grow strong, beautiful hair that has a solid foundation.
12
Shea Butter for Natural Hair
Natural hair is unlike just about any other hair type. It is a mix between curly, kinky, and coily. While beautiful and unique, natural hair can require a bit more care and attention. Shea butter is wonderful for natural hair because it doesn't just lay on top of the hair strands as many other products do. Shea butter gets into the hair shaft and the scalp to deliver nourishing and revitalizing nutrients and vitamins. Shea butter benefits natural hair specifically in the following ways:
Seals in moisture
Natural hair can be dryer than other hair types because of the texture. The natural oils that your scalp produces, sebum, has a difficult time moving down the hair shaft and to the ends of the hair. This can leave natural hair feeling dry and brittle. Shea butter is a natural emollient which makes it wonderful for locking in moisture without the hair feeling heavy or weighed down by grease.
UV Protection
The sun's harmful rays can impact the hair strands just as it does the skin cells. It is important to protect natural hair from the harmful rays. Shea butter has a natural, low amount, of SPF that can prevent the harmful rays from damaging the hair shaft.
Softness
Everyone, natural hair and otherwise, wants to have softer hair. Shea butter is such a great moisturizer that it naturally helps to make dry, brittle, fragile hair softer and more manageable. It is wonderful on natural curls and coils.
13
Shea Butter for Hair Growth
Shea butter can help with hair growth immensely. The process starts with the scalp. Shea butter has naturally anti inflammatory properties which is essential for the scalp. The anti inflammatory helps to rejuvenate the hair follicles which helps to promote growth. Once the hair grows, the shea butter helps to nourish the strands to protect them from breakage. This ensures that the hair that grows will be retained since the ends are moisturized and strong.
Advertisement