Perm Rods Guide
What are Perm Rods? Why Should I Use Them?
Perm rods are a widely popular tool in the natural hair community and has blossomed into a convenient, inexpensive style that creates fabulous curls. Many of the reasons why you should use perm rod sets in your natural hair routine are because the perm rod set, depending on the length of hair and maintenance, can last about 5 days, and is perfect for casual, on-the-go, and elegant lifestyles. With the right products and detangling, you can ease your way in creating the perfect set. Also, when dipped in hot water, perm rods can be used on crochet braids (Marley hair) to switch up styles while keeping your hair protected and adding flexibility to your style.
1
Which Perm Rod Is Right for You?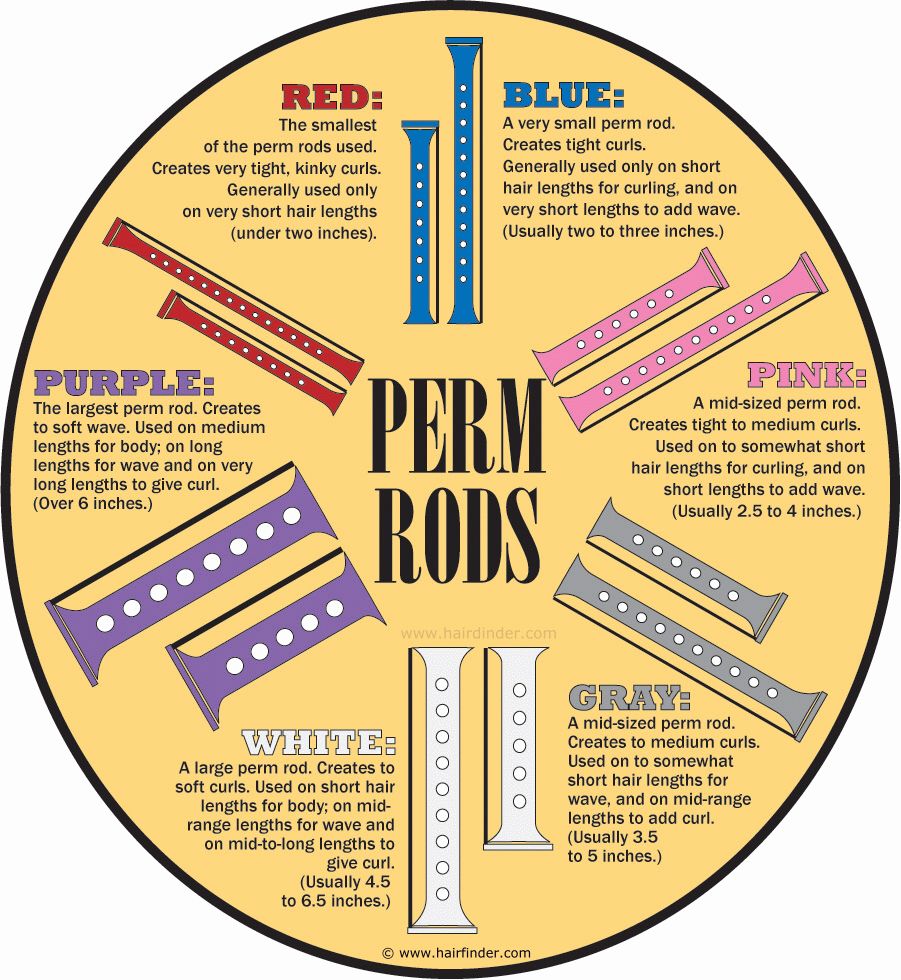 Perm rods, also known as "cold wave rods" come in several colors and sizes where the larger the perm rod size, the looser the curl. Alternatively, the smaller the perm rods, the tighter the curl. The perm rod set's versatility with short, medium and long hair lengths solidifies it being a natural hair staple and is especially great for transitioning hair. The most popular perm rods are the gray, purple, and white perm rods. The gray, mid-size perm rods create spiral curls for medium length hair (3.5-5 inches). For ladies with longer strands (4+ inches), the purple rods are the best choice as they form bold, bouncy curls. The white, large perm rods are mainly used on medium-long hair (4-7 inches) to create wavy curls. The orange perm rods are also common to use amongst longer hair lengths.
Find these perm rods sets at the best price here.
The least popular perm rods are the red, blue, and yellow rods. The red perm rods are the smallest of perm rods and are suitable for very tight, kinky curls. This perm rod would be suitable for hair that's below 2 inches, such as a TWA (Teeny Weeny Afro). The blue perm rods are the second smallest perm rods and are good for tightly curled styles with hair that's between 2-3 inches long. The pink perm rods are great for mid-size curls for hair that's 2.5-4 inches long.
2
How to create a perfect Perm Rod
To create a perm rod set you can either style with freshly washed hair or dry stretched out hair from a braid out or twist-out. To begin, make sure you have a styling moose such as Argan Oil Cream of Nature styling foam or Lotta Body setting lotion for light hold for your curls. If doing the perm rod set with washed/co-washed hair, it's recommended to have a great leave-in conditioner that will also moisturize your hair and prep it for easy manageability and styling. Such leave-in conditioners include Carol's Daughter Hair Milk 4-in-1 leave-in conditioner that will both moisturize and detangle your strands.
After you have moisturized your hair either with a leave-in conditioner or styling foam, divide your hair into small, 1/4 inch sections, detangle your hair with a Denman brush, and have your Perm Rods ready to work. Starting at the root, apply the styling product to your section of hair generously to the ends. Once the product is applied to your hair, take your perm rod and keep it close to your scalp. Next, wrap the section of hair around the roller in a downward motion, keeping the ends of your hair tucked inside and away from your face.  Ensure the button on the end of the band of the roller is secured tightly into the opposite end before proceeding to the next section of hair. Continue to do these steps until your head is full of rods.
Bonus tip: To add Layers to your curls or accommodate shorter sections of your hair, you can have up to three different perm rod sizes such as the purple, orange, and beige perm rods.
The take-out process is the next crucial step in creating the perm rod curls. After unsnapping the button from the end of the rod, carefully grab each curl and unwind your hair in a spiral motion where the hair naturally wants to separate in order to keep the shape of the curl. For extra shine, moisture and frizz prevention, massage about a nickel-size amount of your favorite oil: Castor oil, Coconut and Shea Oils, Argan, jojoba, etc. into the palm of your hands and apply to your hair before separating each curl for the final frizz-free look. Grab a pick to only lift the roots of your hair for additional volume and definition, continue to shape your hair to the desired preference, and you'll be ready to hit the town!
Here's a few perm rod set tutorials that are suited for short-medium hair, medium-long hair and longer hair.
4
Perm Rods for Short-Medium Hair
5
Perm Rods for Medium-Long Hair
6
Perm Rods for Longer Hair